Great outfits, big hair and a full truck of stories turned into great songs. That is Cam, the songwriter-turned-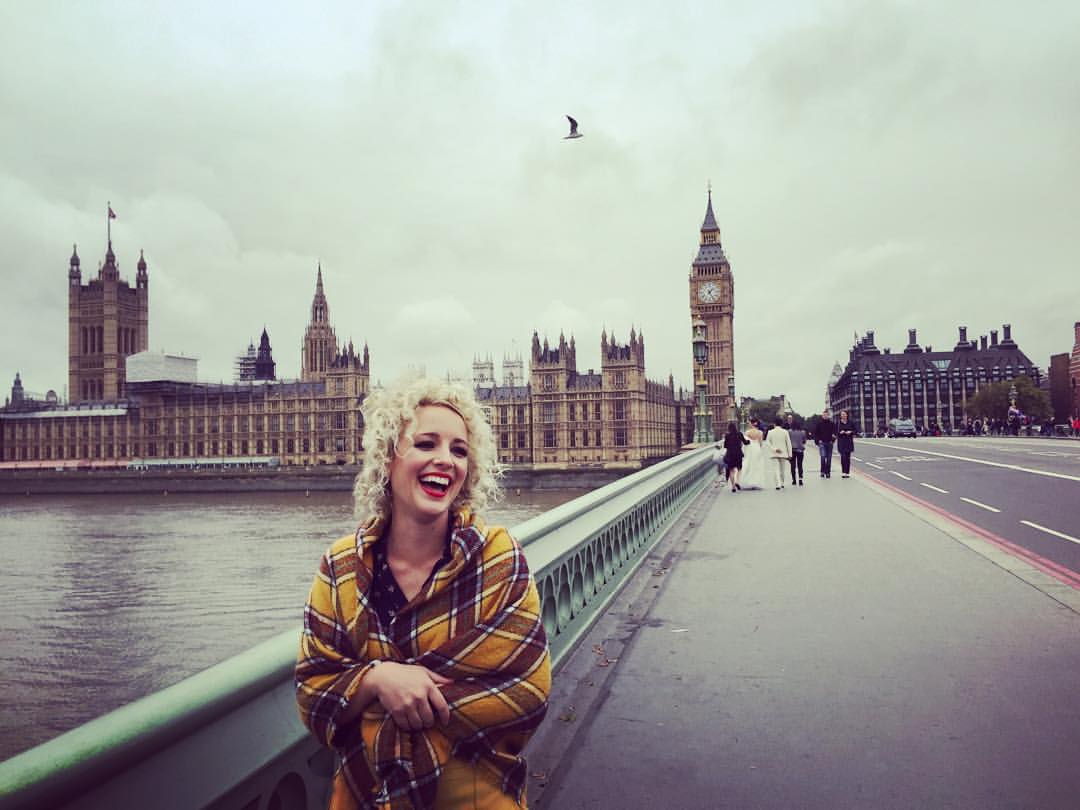 singer and a fantastic artist, and a Grammy nominee.
I got to meet Cam during her recent visit to London and could not help but ask all about her travels, George Strait and fantastic acoustic shows. With Cam being in London during the London Bridge attack, she also spoke about gig security, media coverage and the strong London community.
GRETA: Good to see you back in the UK, how was your last trip here?
CAM: I actually did come for the Apple Music Festival before, maybe two Octobers ago, but I did not get to see anything because I was here for a very short time. Then C2C happened – the O2 Arena performance was crazy, having all these people that knew the words and felt what I felt when I wrote the music. Seeing all of these faces was insane. I loved going to Ireland and Scotland at the same time as well.
Every time I come back to London specifically, I want to live here. It's a beautiful place and the weather now is great too. So, on a personal note, I love making plans to come here.
GRETA: You played a great acoustic show here in London, can we expect more of these kind of shows in the future?
CAM: I love playing these shows. We had the option to have the seats out or to get more people in and stand. When people are standing, you definitely need the drums and beats because people want to move. But the UK audience are great at listening to the lyrics. Once I knew people were going to sit, I knew I could tell the stories behind the songs.
When you play a stadium, all you can say is, "how's everybody doing tonight?", but when you have time, and you are on your own, I could tell all these stories and I got more into the songs myself because I started to remember more and more from the stories. Everybody seemed to love it so I ended up playing for two hours.
GRETA: Do you usually get to talk about these stories?
Not as much. When I do my own shows, I do it for some songs but when you are opening for someone else, you only get 30 minutes so you want to get people as much music as you can.
GRETA: I have to go into the more serious topics, especially since you were in London when the attacks happened. What a scary situation…
CAM: Yeah, it is. And it is so sweet, everyone is so British and they are apologising to me! (laughs)
It is very unfortunately and it is a problem of our generation. You know, it has nothing to do with Londoners, it has nothing to do with the British people. It is sad that there are some people that are full of these kind of angry sets of beliefs. That's sad.
I feel like there are so many wonderful things to enjoy, especially here, so many wonderful people. Yet, some people feel so hopeless or angry that they think that this horrible thing is an option. And then, it is absolutely horrific to see people who had nothing to do with these beliefs lose their lives.
GRETA: Thinking about these things and what happened not too long ago in Manchester at a gig, were you ever concerned about security in the past?
CAM: Yes. It is sad that the US has a lot more gun violence and we have had a few things happened that made people think about security at events. It is definitely on my mind and I believe that if you are going to bring people to an area, it is your responsibility as a venue to protect those people. It is sad that some people would want to do these horrible things.
However, it is still statistically unlikely, so it is not something that should absorb all of your attention. But it is something you have to address at some point. I think people in the US take it seriously, and I know people here take it seriously too.
It was really nice to be here while the Manchester concert happened, how positive that seemed for everybody, right? That is something new too, and the show happened so fast.
It was great to see people come together in such a strong and positive way. The community was immediately standing together. When you guys say, "stay calm," you mean "be alert". That's really inspiring. In the US, there's a lot of fear that comes out in the media, so it was really interesting to watch how different it is through your guys' media. Your Metropolitan Police does not say anything until they fully know, so that was also very interesting for me to see.
GRETA: This whole security topic is definitely something we can debate on. In terms of country music, it is such a friendly genre. I love how every artist is so personal with their fans, they always want to meet everyone after the shows and speak to them. On the other hand, you have security freaking out over these kind of things, and I understand but don't want this aspect to change.
CAM: For us, what happened to Christina Grimmie was the biggest wake up call. That changed how people view Meet and Greets and VIP stuff. But honestly, you have to watch out for people. In life, they are a couple of crazy people, but it's not specific to any kind of industry.
GRETA: Ok, onto lighter stuff now because this is way too serious! I always wanted to speak to you about travelling because not many people know how internationally tied you are. Out of everywhere you have ever been, which place is the most exciting and welcoming?
CAM: Besides the UK… I love going to Nepal because the people are just the sweetest there. I also really loved Cairo (Egypt) for some reason, I thought that was really beautiful. Honestly, I love every place I go to. I always like to go to new places and enjoy where I am. That's the most exciting part, travelling somewhere you have never been and thinking how different it is. Then, after you get to know people and their routines, you just think to yourself, "oh, we're all the same!" (laughs)
GRETA: You spend so much time travelling for concerts, so when do you have time to see places?
CAM: I know! Luckily, I got to live a lot of life before I got into this career, so a lot of it (travelling) was before. Now, people always think that I get to see such and such things. But you don't. You see the same backstage, the same airport. It is nice in a different way but it is so great when you have a tiny bit of time to see at least the local pub!
On the Brad Paisley tour, I used to do this thing called "Coffee with Cam". We would go to a local independent coffee place and talk and be a part of the community. That was really nice but it is not the same.
GRETA: What is on your bucket list in terms of performing abroad? Where would you like your music to take you?
CAM: Well, performing here is really a big part of it. But, I got to go to Tokyo for my honeymoon, and I would love to go play music there because it is such a crazy and awesome city.
GRETA: Where can I sign up as a roadie for Tokyo? Is there a list somewhere?
CAM:(Laughs) Let's do this!
GRETA: You are so busy in the summer and you are also opening for George Strait…
CAM: Yes! That's awesome! He's such a legend, especially when I am a baby artist, it is great but also super intimidating. He plays two nights – one night the first 30 number one songs, second night the next 30. It's insane! And for people, this is the soundtrack to their lives, you know, they are crying and dancing. So, my job is to not bore them (laughs)… it is really fun though!