Chase Rice is a big name in country music who already has a platinum album to his name and has toured with some of the legends of the genre. In late 2017 he headed to the UK for his first ever tour playing small rooms with just his acoustic guitar. For Rice it was the realisation of a dream to head out on a world tour and start again in a new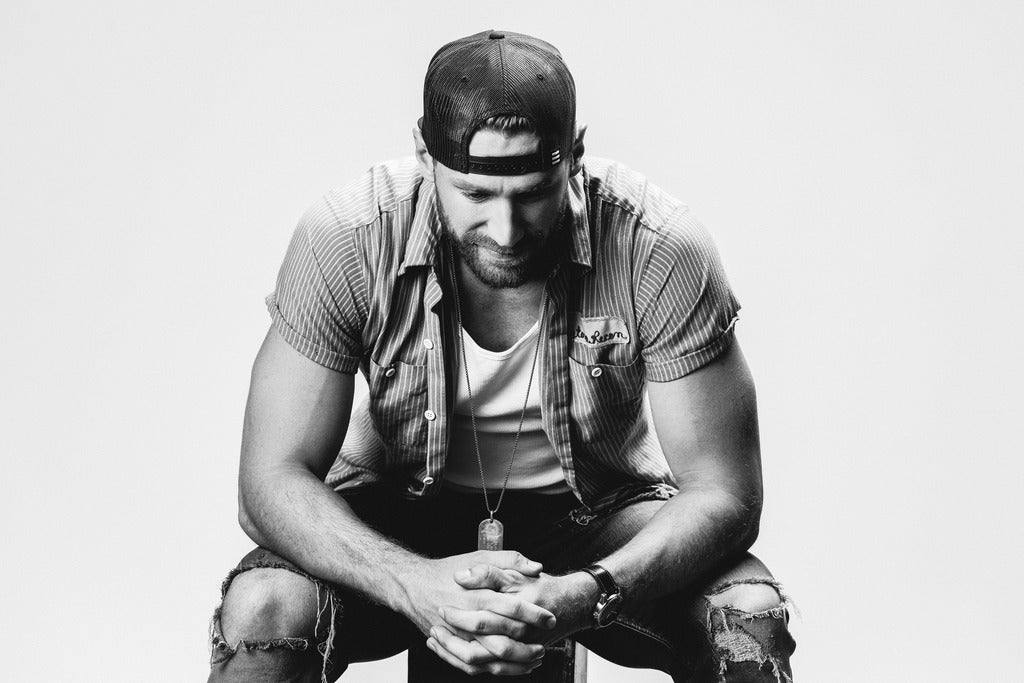 country. We were lucky enough to speak to him before his first show.
Welcome to the UK Chase. Is this your first trip over here?
It's a lot of fun. I love it all over here – Britain is awesome! It's my first time ever in the Eastern part of the world! I like the Christmas vibe that you've got going on with the Christmas villages and stuff! It's kind of cool!
How much are you looking forward to getting out across our country and playing some shows?
Man, I'm excited! I just went and soundchecked in Glasgow and it's fun! We've got to start over, we have to start from the ground up. The way I built my career in America was different which we started kind of the same as this without radio and just playing shows so it's kind of taking me back to the start of my career which is really cool. It's not our first time building a career and a hardcore fanbase in these small clubs though so I'm excited.
Is there anything that has made you think that this is the right time to spread your wings and head over to the UK?
To be honest with you I'm buddies with the Cadillac Three boys and we have the same manager. It's funny in the States they've been opening for us and I told Jaren "I wanna come and open for y'all over there!" and we were just never able to put it together. Just talking to them it seemed so fun and there's no reason to hinder your music by just playing in one part of the world. I want to be able to say 'world tour' one day and no we're able to say that so we've got to keep building it. Jaren just talked about the people over here and how you love country music and I want to be a part of something like that.
Absolutely, those guys are just getting bigger and bigger over here. Have they given you any expectations of what you'll get from British crowds and how the shows are likely to go?
They just said they're a lot of fun and you show up and you don't know why but they just know all of your music! I guess we'll know in a few hours after the show gets started what it's going to be like. We've had so much success in America building from the ground up, playing shows and people screaming our lyrics back to us and they said that over here it's a whole different level for them so there's no reason why we can't do that as well. If people love country music then I want to bring them my music. It's pretty special to be able to say you've played all over the world.
It must be a great feeling knowing that two of the shows have already sold out?
I don't understand it to be honest! I'm like "why do these people know who I am?!" but I'm excited about it! I think there's three sell outs and Birmingham may not have. It shocked me but I'm pumped!
Moving on to your music. You released your latest record 'Lambs & Lions' two weeks ago. How have you found the reception to that?
Unbelievable! People are loving the album and the ten songs that I put on it. A lot of people are saying that they can't pick a favourite song because they love them all so much. It's a different reception to any that I've had for an album as the last one was really critical and people either loved it or hated it – obviously it went platinum which was huge but this one seems to be taking even better than that one!
The album dropped at number 6 on the Billboard country chart. Having it be your first record in three years did that pleasantly surprise you?
Yeah I don't know if it was six as I don't pay much attention to all that stuff. The main thing is that when I go to shows a song like 'Eyes on You' they're already singing it, which is insane to me! That's the most important thing to me and we'll keep touring and selling more and we knew we were taking a chance putting this album out when we didn't have a single on the radio – 'Three Chords and the Truth' is just getting started. This will be a slow building album but I think it's going to be massive for us.
The lead single 'Three Chords and The Truth' is a brilliant country song and the album seems to touch on some very much more traditional sounds in songs like 'This Cowboy's Hat'. Would you say that you had a particular sound in mind when you started the record?
The only thing that I wanted to do was make sure each song had its own identity. I didn't want to say that because 'This Cowboy's Hat' sounds a certain way then every song needs to be like that, it was like "nah forget about that, make each song as good as it can be" and that was my line throughout the album and why I came up with so many different sounds. Even my next album is shaping up that way, each song deserves to be the best that it can be.
You had a hand in writing most of the songs on the album. Is there a particular theme for you personally in the songs?
No like I said I just tried to make each song as real and unique as it possibly could be. With a song like 'One Love, One Kiss, One Drink, One Song' it's just a personal deal for me or with one like 'Jack Daniel's Showed Up' well the writing is on the wall! It's just fun and we wanted a song to lighten the record up. I take each song and treat them individually.
Going back to your touring schedule. You've been on some huge headline tours in the States and toured with Kenny Chesney. Is your live show your favourite part of being a musician?
Absolutely! That's where my career has held on through the last three years of ups and downs. We haven't given people new music and a reason to keep coming to our shows but they've continued to show up and continued to sing these three year old songs because they love the music. We have such a good relationship with the fans and that's where my bread and butter is.
On a personal level it's great to see you touring with Sam Riggs as I'm a huge fan of his music. Is it important to you to take up and coming artists on the road with you?
Exactly! That's a pretty cool part of music in artists helping other artists break through. Sam is just a buddy of mine and selfishly it's nice to have friends on the tour with you to hang out with. He's great and he'll get there if he just keeps sticking to what he does. He has a long way to go because he's new and people haven't heard of him but he'll get there.
In 2010 you were of course a finalist on the show Survivor. How much of an effect did that have on you personally and on your music?
Yeah that actually hurt me music-wise when I moved to Nashville. I tired to move away from that because I didn't want to be the guy who goes on reality TV then has a career because of that, you know? I wanted to have a career because of the music and luckily we did that. Now I look back and it's just a cool experience!
Circling back to your current tour. Do you see the UK becoming a regular touring spot for you?
Absolutely! I don't think there's any doubt and I think the next four days will confirm that even more. As soon as we do these I'd like to come back with my band. We wanted to start out with just me and a guitar like the beginning of my career but next time I want to put on a more rocking show and I want to play bigger venues and have people leave and spread the word. I want 'Lambs & Lions' to be known all across the UK!
Good luck in Scotland tonight!