Album of the Year
Homegrown artists Ben Earle and Crissie Rhodes of The Shires brought out their third studio album Accidentally on Purpose in April 2018 and the pair have had a full-on year, with their own tour as well as supporting Shania Twain and playing iconic venues such as the Royal Albert Hall and Radio 2 Live in Hyde Park. Recorded in Nashville, this album marks a major step up in style and polish for these singer-songwriters who collaborated with the likes of Jeff Cohen and Lindsay Jack Rimes to produce a powerful mix of country anthems. Ahead Of The Storm, Echo, Speechless and Stay The Night are among my own favourites, while the personal stories of The Hard Way must conjure up stories of our own lives – five-year-old Ben riding his bike too fast, Crissie sneaking out for her 'teenage kicks'. From the strength of their voices as individuals to perfectly blended vocals, I'd struggle to say there are any songs I don't like. Even better, the music translates well into their live gigs and I think the only question these two are facing is how to top this latest success.
Best Live Show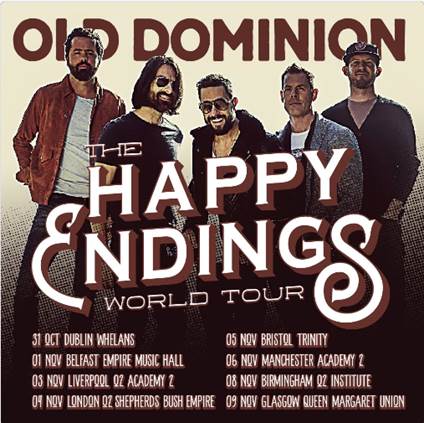 After a year which has included (apart from the festivals) Luke Combs, Drake White, Jimmy Webb, Darius Rucker, The Shires and two sets of Songwriters, this was a really difficult one. Just clinching it though was Old Dominion, who we saw at O2 Shepherd's Bush Empire. Never the best of venues in my opinion, the sound isn't great towards the back and we always seem to end up next to the pushiest, loudest (not in a good way) fellow punters. That aside, OD took the biscuit for energy and pure fun (pun intended with a nod to Meat and Candy and latest single Make It Sweet) – and they looked like they were having just as great a time as the rest of us. From No Such Thing As A Broken Heart and Hotel Key, these guys were the icing on the cake of a great gig year – still gutted I didn't go for a Stars in the City meet & greet but on the plus side, Eric Paslay was a new revelation for me and I hope he'll be back soon.
Favourite Festival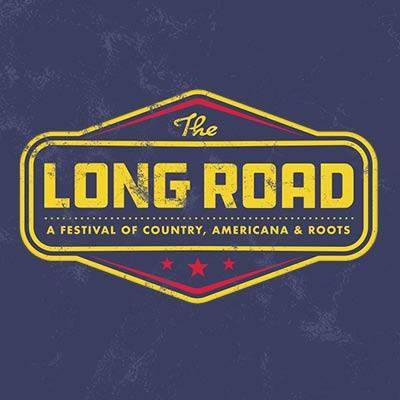 To be fair, I only attended two festivals in 2018 – the annual pilgrimage to C2C and the inaugural The Long Road – and I have to say that The Long Road edged it for me in doing such a great job first time out. A fabulous setting and blessed with largely fine (if not always balmy) weather, this was enjoying country music and the English countryside at its best. Among the highlights had to be Aaron Watson stepping up to headline Saturday's show and The Shires taking centre stage on Sunday, plus a whole host of others across the different stages. Some of the 'competing' sound issues have been well documented so it will be interesting to see how the organisers tackle this in 2019. Personally, I think some artists were better suited to the smaller, more personal stages, Ashley Campbell being a case in point – loved her in the intimate Honky Tonk Bar – less so on the big stage. The Honky Tonk was definitely the place to be for atmosphere to conjure up Nashville's Broadway (Angaleena Presley was another highlight there), while The Front Porch deserves a special mention for down-to-earth homeliness – who didn't want to be sitting in the rocking chair when Jarrod Dickenson was playing. Great kudos to Baylen Leonard and the team for putting on such an event – although will maybe pass on the deep-fried Mars bars next time!
Best New Artist

Ashley McBryde released her debut album in 2016, but as it was her first appearances at C2C and the launch of her Girl Going Nowhere album this year I'm going to squeeze her into my Best New Artist category. Mixing the Springsteen-esque beat of El Dorado with the storytelling of The Jacket, plus my favourites American Scandal and title track Girl Goin' Nowhere, McBryde has a collection of beautiful tales and music to boot. Add to that her rock chick persona and 'kick ass' attitude and she's sure going somewhere, definitely a name to follow.
Most Memorable Moment
It has to be sitting on the floor at London's Koko for the Drake White Meet & Greet. We'd already done one at Thekla, Bristol, the previous weekend (sticky floor not to be recommended) and it was such a brilliant experience we went for it again in London. To sit campfire style while Drake chats and freewheels away on his guitar was certainly my memorable moment of the year. I love the way he mixes his original lyrics – in this case Story, co-written by White, Mark Irwin and Tommy Lee James – into a six minute story-fest. His rich and soulful voice took us on a journey that included a nod to the venue with going Koko Loco; a plea to 'take a little chance with me' and 'tell your friends, dogs and neighbours too'; and the cheers that greeted his announcement he would be at C2C 2019. Mind you, it wasn't really the best kept secret! Interesting that at the M&G we did in 2017 when White supported Kip Moore, there were just four of us there (we all turned up again for 2018), and this year it numbered at least 20. With the near meltdown that followed the news this was the end of Drake White and the Big Fire, we can only hope that if solo is the way to go, then White will be singing in glorious technicolour again very soon.